ZIGGY CHEN – T-SHIRT COL TUNISIEN BROWN
ZIGGY CHEN – T-SHIRT COL TUNISIEN BROWN
ZIGGY CHEN SPRING/SUMMER 2018
T-SHIRT COL TUNISIEN AVEC BANDE GROSGRAIN
Composition: 100% COTTON
MADE IN SHANGHAI
UGS :

N/A

.
Catégories : Sales, shirts & tshirts, Spring Summer 2018, Ziggy Chen.
Mots clés : _027, avantgarde, boutique, essapmi, fashion, handmade, lyon, ziggy chen.
Brand: ZIGGY CHEN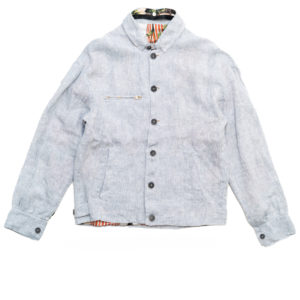 Quickview
coats & jackets, Geoffrey B. Small, shirts & tshirts, Spring Summer 2018
HUJ01 EXCLUSIVE REMOVABLE COLLAR REVERSIBLE 4-IN-1 DESIGN: HAND6WASHED VARESE HADKERCHIEF SUPERLIGHT PURE LINEN WITH COMO PURE SILK RASO SATIN LINING, HAND-MADE BUTTONHOLES & REAL HORN BUTTONS GEOFFREY B. SMALL "This super limited edition HUJ01 jacket design is one of only 22 pieces of its kind made by hand in the entire world. Of these, just 3 piece was cread for all of Europe exclusiely for ESSAPMI in Lyon, from our original Slender Thread Sydney Pollack modified reversible four-in-one button front baracuta jacket pattern, from our extensive tailoring research, and cut using luxury Varese handkerchief superlight pure linen,combiend with pure Como silk raso satin floral and mandlin print lining, then specally hand wash in our studios for extra aging and softness. The design also features removable top collar and reversible "4-in1" design concept use for extra investment value, side tabs and remarkable real horn buttons made exclusively for us by the legendary Fontana family of button makers in Parma, Italy and real mother-of-pearl buttons made for us in Padova, no less than 14 real hand-stitched buttonholes in pure silk Bozzolo Reale Milano Sta thread and is hand-signed and numbered bu the designer. Variations in color and color density are not imperfections or irregularities but specific characteristics of the special fabric, and hand making technique. Please treat buttons and buttonholes with extreme care. We recommand professional cleaning only or hand wash in cold water and protect buttons with foil or plastic wrap when washing. Do not wash with other items. Do not put in washer or dryer. "