ZIGGY CHEN – T-SHIRT COL TUNISIEN NOIR
ZIGGY CHEN – T-SHIRT COL TUNISIEN NOIR
ZIGGY CHEN SPRING/SUMMER 2018
T-SHIRT COL TUNISIEN
Composition: 100% COTTON
MADE IN SHANGHAI
UGS :

N/A

.
Catégories : Sales, shirts & tshirts, Spring Summer 2018, Ziggy Chen.
Mots clés : _027, avantgarde, boutique, essapmi, fashion, handmade, lyon, ziggy chen.
Brand: ZIGGY CHEN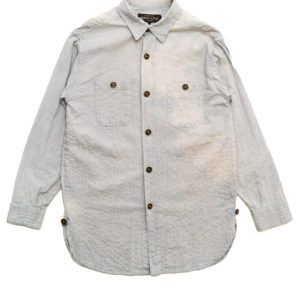 Quickview
Geoffrey B. Small, shirts & tshirts, Spring Summer 2018
HUS15 HANDMADE SHIRT DESIGN: EXCLUSIVE VARESE NATURAL PURE COTTON SHIRTING, HAND-STITCHED BUTTONHOLES & REAL COROZO NUT BUTTONS GEOFFREY B. SMALL "This super limited edition HUS15 shirt design is one of onely 6 pieces of its kind made by hand in the entire world. Of these, only 2 pieces were created for all of Europ exclusively for ESSAPMI in Lyon, from our 1940's curved hem button-vent American reproduction work shirt pattern, form our extensive tailoring research, and cut using natural pure cotton fabric woven in Varese, then specially double dyed by hand in our studios using a process that requires over 6 hours of specialized work to achieve its patina and effects and English tea leaves to achieve its unique special color. The piece also features an impeccable clean-finished French-seamed interior construction, and uniquely balanced cut, fit and design, remarkable real corozo nut buttons specially created for us by Bottonificio Finazzi in Bergamo, Italy and hand-stitched buttonholes in pure silk Bozzolo Reale Milana thread, which require at least 8-10 minutes to create each one. Variations in color and color density are not imperfections or irregularities but specific characteristics of the special fabric, and hand making technique. Please treat buttons and buttonholes with extreme care. We recommand professional cleaning only or hand wash in cold water and protect buttons with foil or plastic wrap when washing. Do not wash with other items. Do not put in washer or dryer. "