Boris Bidjan Saberi Cropped Pants
Rf :
Composition | A: 100% cotton
Treatment | Object dye, waxed
Fit |Â Regular
2 side pockets|Â 2 back pockets
Drawstring
Side zip for comfort
Riri zipper closure
Made in Barcelona
Quickview
JAN-JAN VAN ESSCHE, Spring Summer 2019, pants & shorts
JAN-JAN VAN ESSCHE SPRIN/SUMMER2019 COLLECTION#9 - ONE IN ALL AND ALL IN ONE TROUSERS#51 - BLACK ETAMINE
Pantalon baggy
Cordon de serrage taille intérieure
Fermeture 5 boutons jusqu'à la taille
2 Poches plaquées devant
2 poches plaquées derrière
Ourlets ajustables pattes de boutonnage
Patron en une seule pièce de tissu
COMPOSITION : COTON 79%, LIN 21%
535.00

€
Quickview
Spring Summer 2019, ZIGGY CHEN, pants & shorts
ZIGGY CHEN SPRING/SUMMER 2019 PANTALON TAILLE À PLI RAYÉ
Passants de ceinture en gros grain
Taille à pli
Lien de serrage taille
Braguette fermeture à glissière
2 Poches passepoilées double de côté devant
2 Poches passepoilées double avec bouton derrière
Bas de pantalon ourlet simple
COMPOSITION: RAMIE 50%, COTON 50% DOUBLURE A: COTON 100% DOUBLURE B: CUPRO 100% MADE IN SHANGHAI
725.00

€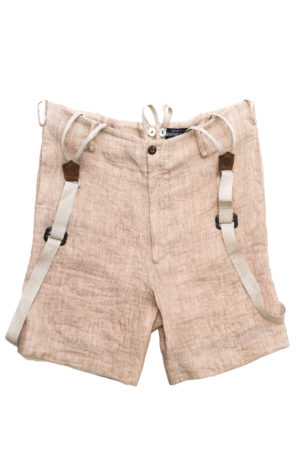 Quickview
Geoffrey B. Small, Spring Summer 2018, pants & shorts
RPS04special SPECIAL, EXCLUSIVE HAND WASHED L. PARISSOTTO DOUBLE FACED LINEN & COTTON FABRIC, HAND-STITCHED BUTTONHOLES REAL HORN BUTTON & MOTHER-OF-PEARL BUTTONS GEOFFREY B. SMALL "This special shorter version of the super limited edition RSP04 handmade suspenders trouser design is one of onl 2 pieces of its kind made by hand in the entier world exclusively for ESSAPMI in Lyon. It was created from our extensive tailoring research, and cut using double faced linen and cotton fabric woven exclusively for us in Sarcedo Vicenza by Luigi Parissotto and family, each individually hand washed in our studios for extra aging and softness. The design also featyres special real hand cut vintage recycle garment leather suspenders made by hand in our studios, special nickel aluminium zipper made for us by YKK in Japan chosen for maximum strenght and style, beautiful interior taped seam finishing using special trims woven only for us, special buttons in real horn made exclusively for us by the world's greatest living button-makers, Claudio and Cinzia Fontana in Parma Italy, real mother-of-pearl buttons made for us in Padova and our signature real hand stitched buttonholes in luxurious pure silk Bozzlo Milano Stea Reale threads, and is hand-signedand numbered by the designer. Variations in color and color density are not imperfections or irregularities but specific characteristics of the special fabric, and hand making technique. Please treat buttons and buttonholes with extreme care. We recommand professional cleaning only or hand wash in cold water and protect buttons with foil or plastic wrap when washing."