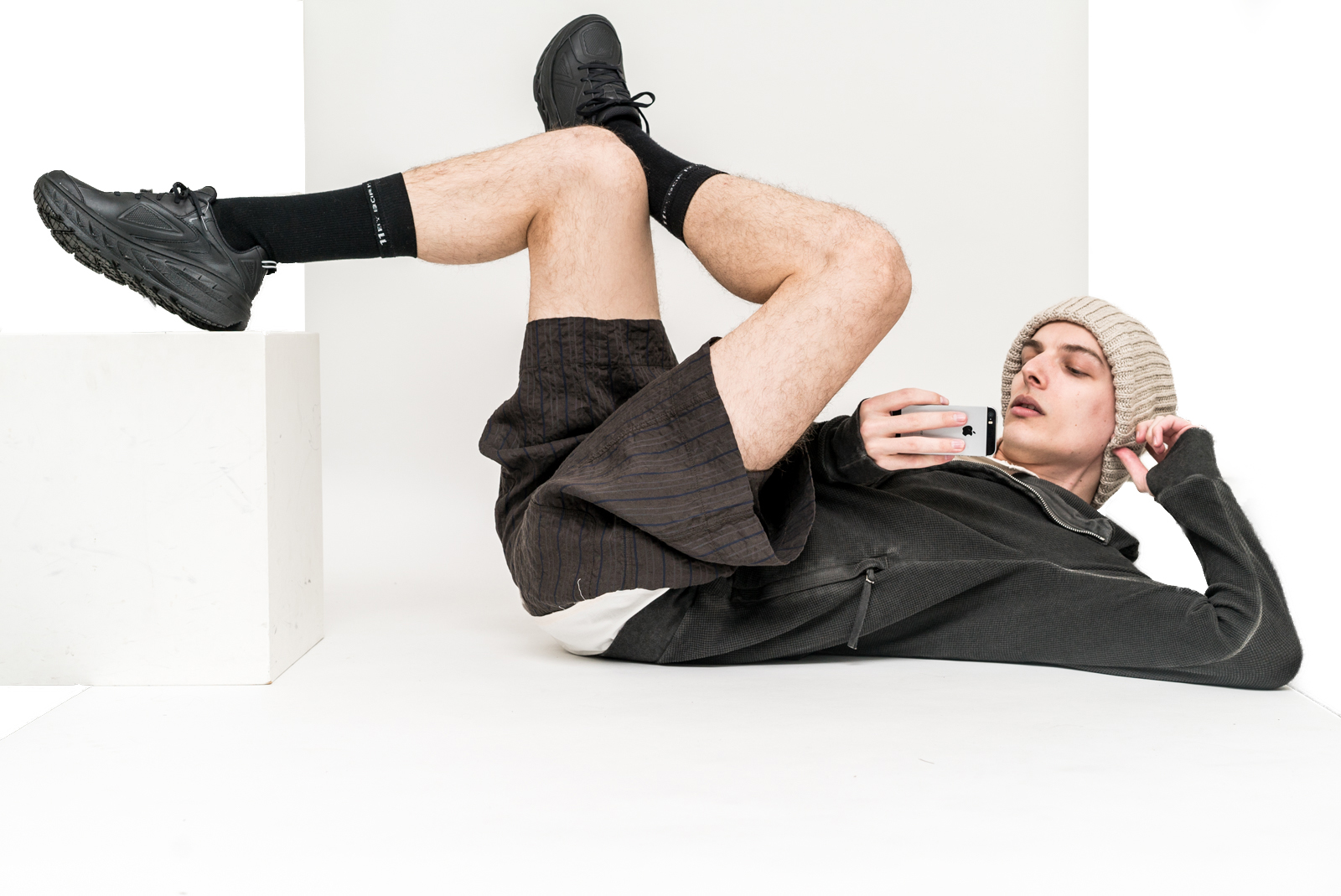 "I'm constantly trying to make the next selfie better than the last one. I scrutinize my photos and make sure everything is perfect"
Max , 27 years olf, always looking for the latest trends, is introducing himself as an artist and performer. His talent? Taking the best selfies possible. Since 2007, Max is taking up to 50 selfies each day to curate his Instagram account.
---
"My obsession is like a disease. The more pictures I take, the more I want to take them. I do it for myself, so I can feel good and I like to think that I'm attractive. I have to share it with the world. My secret to get the best selfies in the world?
Well, that's a secret. 
Everybody live in 3D, I live in MaxD. I'm constantly trying to make the next selfie better than the last one. Every picture on my phone taken over the past decade is of me, by me. My routine is pretty much the same every day unless I'm feeling under the weather and I'm not in the mood.
"
"I got a new smartphone a month ago and it had the best quality camera. I went from 50 selfies a week to 50 selfies a day. When I discovered the filters, I immediately love the way they made me look. My skin looked so clean and my eyes were shinning. I don't hate the way I look naturally or have any hang-ups about my appearance, but the filters make me look better. So why wouldn't I use them? The biggest number of likes I've had on one picture is 150k and it gave such a buzz. I would love to beat that number one day!Â

I gained so much followers that I don't even count them anymore. Most of them are my friends though, so they don't complain when they see my face pop-up on their feed for the thirtieth time that day."
When I wake up, my ritual is pretty simple : I shower straight away then I take my breakfast which consist of coffee, fruits and cereals. When I'm finally ready, click, I get on social medias and grace the world with my most beautiful smile ever!

Until lunch, I try to restrain myself to post 10 pcitures max, since people are not that active on social medias at this time of the day, the lunch comes. It's time for me to look for a spot on a terrace so I can make the most out of the sun. It's time for my followers to give theur likes. I scrutinize my picutres and make sure everything is perfect. If there's something I'm unhappy with, like the lightning or the pose, I'll take more selfies.

The afternoon is the perfect time to go to the gym and make more selfies. It's also the time of the day when I find myself being in the greatest shape : my muscles are prominent, and I can flex them to the MaxD. I take a lot of time before finding the best selfie that I'd be happy to post.

After dinner, I chill out on my couch with my phone and check my stats of the day. That's the moment when I realize that I'm really popular and how today was such a great day for me.

I love the "likes" I get from other people because they build my confidence and self-esteem. I feel like like I'm being noticed.
"In 2014, I founded the 'SELFITISM' association, a place where people could perfect their technics of self-immortalization and become some post-bad masters. I teach them the right angles, the perfect framing. My favorite is when I place my hand under my chin with my head tilted downwards and my eyes to the camera. In that kind of exercise, it's major to highlight the cost of the clothes I'm wearing since they convey an idea of wealth.
I don't like to put makeup on, the filters do perfectly the job for me. I use a filter on 95 percent of my photos and wouldn't dream of sharing a picture of myself without one. I do put pressure on myself to look as good as I do in the filters. I panic if I bump into someone who follows me on social media if I'm not looking my best. I've heard about girls who have surgery to achieve their filtered look, but I'd never do that. It sounds too drastic.
An ex-boyfriend once asked me why did I need to share so many pictures of myself on social medias. He couldn't understand why I needed the attention from other people when I was with him."
Max is the subject of an on-going study run by several researchers, who helped develop the "Selfitis Behavior Scale". The scale helps evaluate the extent of disease affecting the patient.


Dr. Mark GRIFFITHS, a professor of behavioral addiction at Nottigham Trent University, said :
"Those with the 'Selfitis' condition are looking to boost their self-confidence, to draw attention on themselves or to improve their mood as well as creating new memories, fitting with those arounf them and being socially competitive. Few years ago, articles were published in several media outlets, asserting that the American Psychiatric Association was considering the 'Selfitis' as a mental disorder. Even though the story was not proven to be true, it didn't mean that the 'Selfitis' condition was not real. We can now confirm that the condition is real. Knowing that, we developed the first ever scale to assess the 'Selfitis' condition."
His colleague, Dr. Janarthanan Balakrishnana, added :
"Typically, those with the condition suffer form a lack of self-confidence and are seeking to 'fit in' with those around them and may display symptoms similar to other potentially addictive behaviors. Now the existence of the condition appears to have been confirmed, it is hoped that further research will be carried out to understand more about how and why people develop this potentially obsessive behavior, and what can be done to help people are the most affected. "
Selfitis Behaviour Scale
Answer the following 20 questions on a scale of one to five, where five is strongly agreed and one strongly disagrees.
In the end, add up all of your scores.
The higher your score (the highest is 200) the greater the likelihood that you suffer from 'Selfitis'.
Taking selfies gives me a good feeling to better enjoy my environment

Sharing my selfies creates healthy competition with my friends and colleagues

I gain enormous attention by sharing my selfies on social medias

I am able to reduce my stress level by taking selfies

I feel confident when I take a selfie

I gain more acceptance among my peers when I take selfies and share them on social medias

I am able to express myself more in my environment through selfies

Taking different selfie poses helps increase my social status

I feel more popular when I post my selfies on social medias

Taking more selfies improves my mood and makes me feel happy

I become more positive about myself when I take selfies

I become a strong member of my peer group through selfie posting

Taking selfies provides better memories about the occasion and the experience

I post frequent selfies to get more likes and comments on social medias

By posting selfies, I expect my friends to appraise me

Taking selfies instantly modifies my mood

I take more selfies and look at them privately to increase my confidence

When I don't take selfies, I feel detached from my peer group

I take selfies as trophies for future memories

I use photo editing tools to enhance my selfie to look better than others