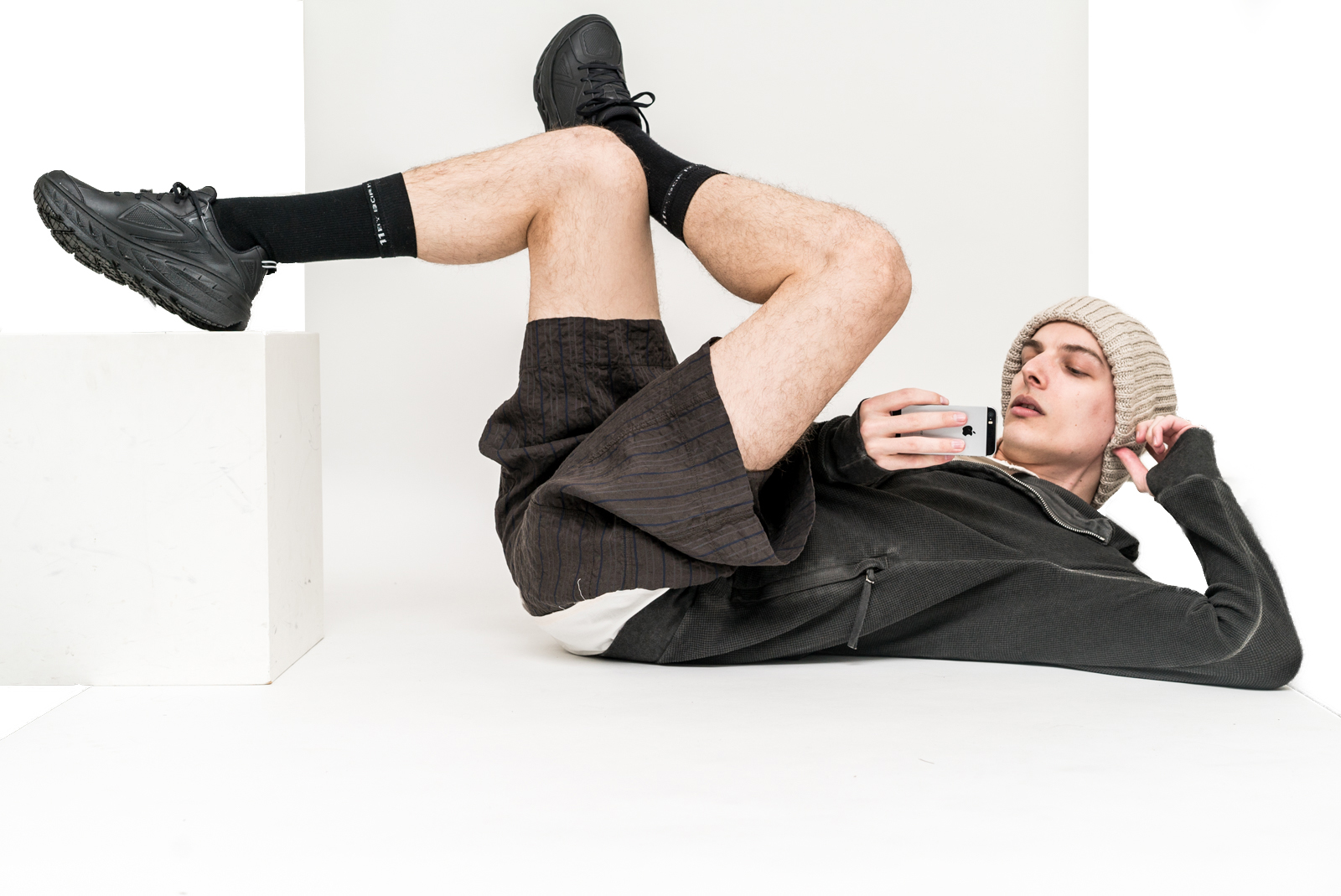 "J'essaie toujours de trouver le meilleur angle de moi-même; J'observe chaque expression de mon visage pour livrer mon plus beau portrait."
Max 27 ans, toujours dans le cadre, se pr"sente comme un artiste et un performeur. Son talent: prendre les meilleurs selfies du monde et à  fortiori de l'univers. Depuis 2007, Max prend jusqu'50 selfies par jour et les publie sur les réseaux sociaux. Il s'exprime sur son obsession, sa passion et son métier.
---
"Mon obsession est comme une maladie. Plus je prends de photos, plus je veux en prendre. 
Je fais ça pour moi, pour me sentir bien et je me trouve séduisant, il faut donc que je le partage. Mon secret pour faire les meilleurs selfies du monde…
C'est un secret.
Les gens ordinaires vivent dans la 3D, moi chui au MaxD. 
J'essaie constamment de rendre mon prochain selfie meilleur que le dernier. 
Chaque photo prise sur mon téléphone au cours des 10 dernières années, est de moi par moi. Ma routine est la même tous les jours sauf si je me sens mal à  l'aise et que je ne suis pas d'humeur."
"J'ai eu un nouveau smartphone il y a un mois, équipé du meilleur appareil photo numérique. Je suis passé de 50 selfies par semaine à  environ 50 par jour. 

Quand j'ai découvert les filtres, j'ai tout de suite adoré comment ils m'ont fait paraître. Ma peau avait l'air impeccable et mes yeux brillaient.

Je ne déteste pas la façon dont j'ai l'air naturellement, mais les filtres me rendent plus mieux. Pourquoi ne les utiliserais-je pas? Le plus grand nombre de likes que j'ai eu sur une photo est 150k et cela m'a donné un tel buzz. J'aimerais battre ce nombre. 

Je ne compte plus mes adeptes et parce que la plupart d'entre eux sont des amis, ils ne se plaignent pas quand ils voient mon visage apparaître sur leur flux pour la trentième fois ce jour-là."
Au réveil, mon rituel est assez simple, je saute dans la douche et me prépare pour prendre le petit déjeuner que je compose de fruits, de bon café et des céréales. J'essaie un maximum d'être naturel et clic.. Me voilà  sur les réseaux, saluant la Terre de mon sourire éclatant.

Jusqu'au déjeuner, j'essaie de m'afficher au moins 10 fois car généralement les gens sont moins connectés. A l'heure du repas de midi, j'essaie de me retrouver dans une terrasse ombragé afin de profiter un maximum du soleil. C'est encore l'occasion pour mes fans de m'offrir leur "Like"! Je scrute mes photos dans leurs moindre détails et m'assure que tout est parfait. S'il y a quelque chose dont je ne suis pas satisfait, comme l'éclairage ou ma pose, je n'hésite pas à  recommencer plusieurs dizaines de fois avant de trouver le bon é

quilibre.

L'après-midi est un moment idéal pour pratiquer le sport et le selfie. C'est aussi le moment de la journée où je me trouve le plus sexy, car mes muscles sont bien gonflés et saillants et la lumière est bonne! 

Je prends beaucoup de temps avant de trouver une photo que je suis heureux de partager sur les réseaux sociaux.



Le soir, après le souper, je me pose dans mon canapé, et réalise à  quel point je suis populaire en comptabilisant les nombreuses interactions de mes followers. C'est là  que je me dis que j'ai passé une bonne journée!

J'aime les «Like» que je reçois des autres parce qu'ils construisent ma confiance et mon amour-propre. J'ai l'impression d'être admiré.
"En 2014, j'ai monté un club associatif "SELFITISM", lieu où les gens peuvent parfaire leur technique d'auto-immortalisation et devenir un maître post bad. Je leur enseigne les bons angles de tir et ce qu'est un bon cadrage.. Mon préféré est quand je place ma main sous mon menton avec ma tête inclinée vers le bas et mes yeux vers la caméra. Le style est très important à mes yeux, je les distingue des selfies où seul mon visage apparaît. Dans ce genre d'exercice, il est important de souligner le coùt des sappes que je porte car il véhicule une apparente richesse pécuniaire.
J'aime ne pas avoir besoin d'appliquer plus de maquillage parce que les filtres font tout le travail dur pour moi. J'utilise un filtre sur 95% de mes photos et je ne partagerais pas une photo de moi sans. 
Je me mets la pression pour avoir l'air aussi bien que dans les filtres. 
Je panique si je tombe sur quelqu'un qui me suit sur les médias sociaux si je ne suis pas à mon meilleur.
J'ai entendu parler de gens qui subissent une intervention chirurgicale pour obtenir leur apparence filtrée, mais je ne ferais jamais cela. 
Cela me semble trop drastique.
Un ex-petit ami m'a demandé pourquoi j'avais besoin de partager autant de photos de moi-même sur les réseaux sociaux. 
Il ne pouvait pas comprendre pourquoi j'avais besoin de l'attention des autres quand j'étais avec lui ou pas."
Max est le sujet d'étude de plusieurs chercheurs en psychologie, participant notamment à  la création du "Selfitis Behaviour Scale". Une échelle est permet dâ'évaluer le degré pathologique d'une personne.


Le Dr Mark Griffiths, professeur de toxicomanie à  l'Université de Nottingham déclare:
"Ceux qui souffrent de "selfitis" cherchent généralement à  renforcer leur confiance, à  attirer l'attention, à  améliorer leur humeur, à  créer des souvenirs, à se conformer à  leur groupe social et à  être socialement compétitifs. Il y a quelques années, des articles sont apparus dans les médias affirmant que l'American Psychiatric Association considérait le selfitis comme un trouble mental.Bien que l'histoire se soit révélée être un canular, cela ne signifiait pas que l'état de selfitis n'existait pas.  Nous avons maintenant confirmé son existence et développé la première échelle de comportement Selfitis au monde pour évaluer la condition."
Son collègue, le Dr. Janarthanan Balakrishnan, a ajouté:
"Typiquement, ceux qui souffrent de la maladie souffrent d'un manque de confiance en soi et cherchent à  s'intégrer dans leur entourage, et peuvent présenter des symptômes similaires à d'autres comportements potentiellement addictifs.Maintenant que l'existence de la maladie semble avoir été confirmée, on espère que d'autres recherches seront menaes pour mieux comprendre comment et pourquoi les gens développent ce comportement potentiellement obsessionnel, et ce qui peut être fait pour aider les personnes les plus touchées. "
Selfitis Behaviour Scale
Répondez aux questions suivantes sur une échelle de un à cinq, cinq étant fortement en accord et un fortement en désaccord.
A la fin, additionnez tous vos scores.
Plus votre score est élevé (le plus élevé est de 100), plus grande est la probabilité que vous souffriez de Selfitis.
Prendre des selfies me donne un bon feeling pour mieux profiter de mon environnement

Partager mes selfies crée une saine compétition avec mes amis et collègues

Je gagne énormément d'attention en partageant mes selfies sur les médias sociaux

Je suis capable de réduire mon niveau de stress en prenant des selfies

Je suis confiant quand je prends un selfie

Je gagne plus d'acceptation parmi mon groupe de pairs quand je prends des selfies et les partage sur les médias sociaux

Je suis capable de m'exprimer plus dans mon environnement à  travers les selfies

Prendre différentes poses de selfie aide à augmenter mon statut social

Je me sens plus populaire quand je poste mes selfies sur les réseaux sociaux

Prendre plus de selfies améliore mon humeur et me rend heureux

Je deviens plus positif sur moi-même quand je prends des selfies

Je deviens un membre fort de mon groupe de pairs gâce à des publications de selfie

Prendre des selfies donne de meilleurs souvenirs sur l'occasion et l'expérience

Je poste des selfies fréquents pour avoir plus de "j'aime" et de commentaires sur les réseaux sociaux

En postant des selfies, j'attends de mes amis qu'ils m'évaluent

Prendre des selfies modifie instantanément mon humeur

Je prends plus de selfies et je les regarde en privé pour augmenter ma confiance

Quand je ne prends pas de selfies, je me sens détaché de mon groupe de pairs

Je prends des selfies comme trophées pour de futurs souvenirs

J'utilise des outils de retouche photo pour améliorer mon selfie pour mieux paraître que les autres
Quickview

Fall Winter 2019, Geoffrey B. Small

SEP06special ATTENTION SPECIAL HAND DYED LUXURY PACENZA SUPER 180's ECSTASY 14.5 MICRON WOOL WITH LUXURY RATTI COMO SILK LINING STORY, HANDPADSTITCHED CANVAS FRONTS, HAND-STITCHED BUTTONHOLES & REAL HORN BUTTONS. An Essapmi, Lyon                                                                                                                                                                              World Exclusive GEOFFREY B. SMALL "This special version of the super limited edition SEP06 trouser design is the only piece of its kind made by hand in the entire world exclusively for Essapmi in Lyon. It was created from our drop-rise narrow leg back-button closure pocket trouser pattern, from our extensive tailoring research and cut in a very soft light ultralux Super 180's Ecstasy 14.5 micron wool fabric wool woven in Pollone Biella, Italy, by the oldest woolen mill and most respected cashmere makers in the world, Fratelli Piacenza 1733 Spa, fully-lined with pure silk in an exclusive print design created for us by the legendary Ratti Spa mills in Guarnate, and pure stripe viscose woven for us by Tessitura Mauri in Como, along with anthentic Bemberg cupro sleeve linings for super softness and comfort, then specially hand dyed in our studios with process which takes 8 hours to achieve its unique patina and special color. The design also features the ultra-advanced extreme-technology first-in-the-world triangular handmade welt besom pockets, very special-old-fashioned canvas horsehair front and collar interfacings totally handpadstitched with over 1000 invisible hand stitches inside to give it its remarkable soft, natural roll line along lapels and collar, real working surgeon's cuffs, the most advanced new artisan made horn button designs created exclusively for us by the legendary Fontana family of buttonmakers in Parma, Italy, and no less than 1à hand-stitched buttonholes (each one requires 8-10 minutes to cut and sew) in luxurious pure silk Bozzolo Reale Milano Seta threads and is handsigned and numbered by the designer. Please treat buttons and buttonholes with care. We recommend professional cleaning or hand wash in cold water and protect buttons with foil or plastic wrap when washing. Do not wash with other items. Do not put in washer or dryer. Do not immerse buttons in water for extended periods of time."